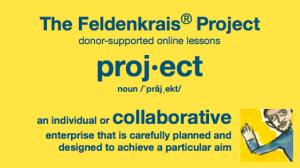 Since Nick Strauss-Klein launched this collection of donor-supported Feldenkrais lessons in 2015, an amazing and responsive online community has bloomed around the world. More than 150 people stepped up with financial, technical, and creative support to help build this new site. Thank you from Nick and all our listeners! You can learn more about the Feldenkrais Project community below.
Over the years we've had thousands of listeners from countries as diverse as Australia, Bulgaria, Israel, France, the UK, the Czech Republic and the Netherlands (to name just a few). Some of our listeners have been tuning in since the beginning.
We always love hearing from you! It helps us understand who is using the site and why, so we can better serve your needs and improve this resource. Please leave a comment below to let our community know where you are and why you listen. If you want, tell us a favorite lesson (yup, it can be hard to choose!).
It takes a global village to spread Feldenkrais learning to the many far and underserved corners of this earth! If you benefit from these lessons, please share this site with your friends and loved ones and help us expand our global community of learners. And if you have the means, please join the Project to sustain this website and help us achieve our vision.
These testimonials arrived with listener donations from Sept. 2018 - Feb. 2019 as we fundraised to build this website.
"Thanks Nick! I love doing your lessons and have referred many clients and students to your site. " - Johanna Rayman
"Thank you, Nick, for all the wonderful lessons that you offer. I have enjoyed them for years and recommended them to many of my clients." Loulou Burke, LMT
"Thanks Nick for creating this amazing resource and for your generosity in making it available without financial barriers." - Julie Craig, UK
"Forever grateful for the online availability...using now in Mexico" - Carol
"Thank you Nick for your online classes, I'm benefitting from them with my MS and my mobility issues. Greetings from Australia" - Cindy