What to expect from Nick's Pay-What-Can Zoom classes
Below you'll find a video recording of my March 16, 2020 class called Organizing Your Feet for Balance, Posture, and Power. It was the first online class of the pandemic quarantine. Our production values have increased quite a bit since then, but you'll get an idea of how Zoom Feldenkrais class works. The video includes brief talks and two lessons, a mini version of my popular feet workshop.
Whether you attend live on Zoom or not, everyone who purchases an online class using my Pay-What-You-Can page receives an email with links to the recording and free recommended "homework" links for further study. You can also order recent recordings.
Had to share this fun card I received from Judy B. who attended the class below:
Zoom FKRAIS was fabu! The tripod foot is helping my tree pose immensely!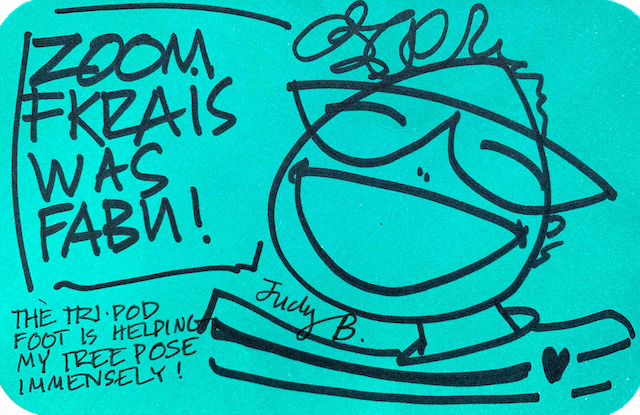 My regular weekly Tuesday morning class is an hour, a single ATM lesson. Sometimes I'll lead a brief talk at the beginning before the lesson. After class (and after I stop the recording), we usually have about 15 minutes of discussion, a little open mic time about the lesson, people's experiences, and the Feldenkrais learning principles at work. These discussions have become a rich treat for me and students who attend live!
If you're new to FeldenkraisProject.com, read this first. These tips are essential reading: they include your responsibilities as a home Feldenkrais student. Timestamps are below the video player.
Timestamps and links for further study
You can click or drag the play marker across the video timeline above to fast forward or rewind.
00:00:00 Greeting
00:02:00 Background principles for today's lessons (recommended!)
00:09:00 ATM lesson 1 begins. For further study, it resembles a free FeldenkraisProject.com lesson called Breath, Belly, Back, and Hips.
00:47:00 ATM lesson 2 begins. Dive in deeper with a free FeldenkraisProject.com lesson called Activating the Arches.
If you've done Activating the Arches and want further integration of this work with the feet with your whole self, try continuing through our Lessons for Standing, Walking, and Running collection with the next lesson, The Buttocks.
---
How to join a live online class (and/or get the recording)
All are invited to our virtual classroom, and the sense of community has been amazing! Classes are Tuesdays, 9:30 AM Central US time. Click this button to learn more about registering for live classes or ordering class recordings and links for further study:
Pay-What-You-Can Live Video Classes
Praise for Nick's live online classes
Feedback from Connie from Minnesota, a participant in our 4/28/20 class. I added the emphasis:
Yesterday afternoon I tackled a house project I'd put off for many months, steam cleaning all the carpet in the house. I hadn't been working long when I realized, "I don't need to do this with a heavy push forward and then pull backwards", a method that resembles vacuuming and puts a lot of pressure on my lower back. I realized I can walk forward and then walk backward, pushing and pulling the machine in that way. It was like magic – just as effective and not nearly as wearing. Later, I remembered your advice to ask how the spinal bias can be helpful. I thought about that question and immediately got even further relief by slightly adjusting my spine. It seems so darn obvious but without Feldenkrais, I would have not considered asking myself the question of "is there an easier way?"
Feedback from a participant in our 4/21/20 class:
Before the plague, I was taking lessons from you at the Marsh, and continue to do so most Mondays and Tuesdays on Zoom. We don't have a camera on our computer, so I cannot participate in that way. However, I do see and hear you, and others, and am getting some amazing, mind-blowing results. In particular this last one, Tuesday 4.21, which made me feel as if I had a body transplant. Upon standing, I thought, "Whose body is this, and what did you do with my old one?"

Thank you, Nick, very much. As long as my luck holds, I intend to continue to take classes and to learn and change.
Feedback from a participant in our 4/20/21 class:
So detailed, yet simple. I've done a lot of ATMs over the years, with some very fine instructors, but you are helping me find new insights and clarifications in Old Favorite lessons. I particularly appreciate the way you balance profound information with material suitable for those new to the work...and the myriad of ways you remind us to do "less". I've shared your link on Facebook, and rave about your work to anyone who'll listen.
From Beth, San Rafael, CA, brand new Feldenkrais Project Patron:
Many, many thanks for sharing your outstanding live Feldenkrais class with the general public this morning. What a wonderful way to start the day and to feel a sense of connection, not only with our bodies but with the rest of the world as we hunker down.

I'm planning to contribute to your Project and applaud your vision to bring Feldenkrais to all, particularly during these unprecedented times.

To good health and equanimity!
From other students:
Just wanted to thank you for an amazing class today! Thank you for your hard work and for giving me the possibility to take the class in these uncertain times of social isolation. It was inspiring!

Also wanted you to know that I am in love with your classes and have passed your website on to several other people who need help at this time! I am over the moon grateful and will become a member or patron very soon.

In gratitude ?
I can't imagine all of the tech you are doing to make this work. I'm listening in, old school, by phone!

It's an absolute lifesaver. It so calms down my nervous system. What a way to be in our bodies with this level of anxiety.

And, thanks for your loving presence in these classes.
First, I'd like to thank you for a wonderful first-time experience with your free on-line live class the other day. You're amazing in how you explain things so clearly.

I cannot express enough my gratitude to you & your concern for helping others. You are a rare man, not looking for the almighty dollar but to serve others with your loving heart.

Bless you & your family.
From a Facebook post to friends, shared with me by a participant:
My daughter and I just finished a free live online Feldenkrais class together at home. It was rejuvenating! There were 120 people in the class from all over the world – Spain, Australia, Germany, Israel, the UK, and all over the US. It was inspiring to see people trying to take care of themselves in this crazy time. I've been doing Feldenkrais private lessons for five years and it has changed my body and my life. It is a neuromuscular reeducation. My instructor, Nick Strauss-Klein, has created the Feldenkrais Project to create free lessons online. You can become a member for more benefits but there are dozens of lessons online for free. As we are all cooped up for awhile and need to stay sane and healthy think about giving this a try. I promise you won't regret it and you might even become a life-long devotee like me and many others.