UPDATE: The live event is over but you can purchase the recordings using the blue button below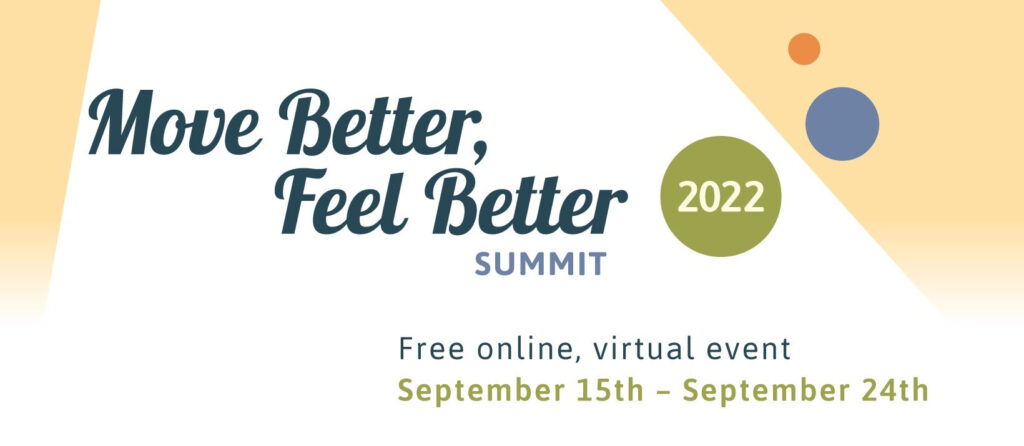 I'm one of the 53 expert speakers in Cynthia Allen's 2022 Move Better, Feel Better Summit. There are also dozens of Feldenkrais lessons, panels, and bonus content.
I can't wait for you to see my presentation on day 10, Balance day, September 24. It's called "Playing Nice with Gravity." Check out this two-minute preview!
My summit gift
Through Oct. 31, 2022, you can also get access to a full recording of my workshop called Balance: Myths, Facts, and Practice! This is an amazing giveaway that you won't want to miss.
After that date you'll still have access to free Feldenkrais Project balance lessons. If you have any trouble finding my summit gift links just contact us.
Purchase Unlimited Digital Access
Please purchase with that button – here's why:
Cynthia Allen's online endeavors harmonize beautifully our work and vision at The Feldenkrais Project. I proudly partner with Cynthia as an affiliate and content contributor because we share a philosophy of "Feldenkrais for all" and a passion for quality in Feldenkrais education and the web tech we use to deliver it.
Best of all, we share a funding model that delivers this wonderful work with no barrier to entry: loads of freely offered content, with more access and content for those who decide to pay.
The summit was free live. If you purchase the unlimited access upgrade for access to replays now that the summit is over, I may be paid a small commission for referring you, which I will appreciate!
Thanks for purchasing with my link above. Enjoy the Summit!
– Nick