The following first appeared as a May 2019 newsletter for the Feldenkrais Project email list. You can subscribe right here.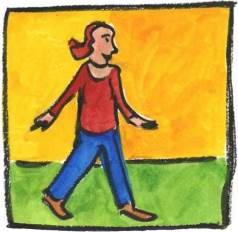 Our featured Feldenkrais Project lessons for this month are linked below. They're from our lesson collection called Learning the Limbs, from the Center.
Our miraculous uprightness and bipedal gait is a defining characteristic of humankind. It's so basic to us that it's easy to take it for granted: when we're walking we're usually more interested in where we're going than our skillfulness in getting there! Perhaps because the modern world is so different from the one we evolved in, most of us have built some restrictive habits around walking.
We evolved to enjoy our whole self moving harmoniously, using the suppleness of our chest and torsos – integrated with our legs – to carry us around for miles a day with grace and ease. But our cultural environment makes it hard to claim this birthright. Two of the biggest culprits are the hard, flat, numbing surfaces we're often required to walk on, and the hours we're expected to be seated.
The Feldenkrais lessons below can help you explore and improve many of the whole body functions that underlie our gait, and get free of restrictive habits in our torsos that limit our walking ability. By taking time and space to notice ourselves and explore new possibilities, we can listen closely to our habits, get free of unnecessary efforts, and learn to walk with more skill and pleasure!
If you find these lessons valuable and you have the means, please donate and join the Feldenkrais Project. We are entirely funded by listener donations – we don't sell ads or charge anyone for access to our primary collection of over 40 Feldenkrais lessons.
If you're already a Member or Patron, thank you!
Our Members and Patrons are critical in fulfilling our dream to make "Feldenkrais" a household word. When you join the Feldenkrais Project you'll support the website, help me add new content, and fund our efforts to share this wonderful method as widely as possible. You'll also gain access to additional information and study features exclusive for donors! And, if you donate at the Patron level, you'll get access to at least one new lesson every month, as well as our quarterly live video lessons.
I love these lessons below and I'm so glad to share them with you. Thanks for listening, and for your support. Enjoy your studies!
– Nick
PS – These lessons include a fair amount of the learning I present in my walking workshops in the Twin Cities.
May's Featured Feldenkrais Project Lessons
These lessons develop suppleness of our chest and torsos and integrate them with our legs and walking.
Side-lying, improving functional relationships of the shoulders and hips through small and large movements. Constructing and improving your image of the "quadrilateral" of the torso while integrating the ribs, spine, neck, and head. Later, harnessing the suppleness of the quadrilateral to support reaching and circling the arm.
Side-lying, further expanding the image of the shoulders and hips toward improving major postural and gait-related organizations of the torso. This lesson uses bending and thrusting the legs from the hips along with lengthening, arcing, and circling the arms.
Available for all to use, these lessons are 100% donor-supported. If you're not yet a Member or Patron and you have the means, please consider joining the Feldenkrais Project for as little as $3 per month. Elsewhere on the web you'd be charged up to $40 for two high quality Feldenkrais lessons for home study.
Tried it, liked it? Please share this article using the social buttons below to help us achieve our vision of Feldenkrais for all!