Don't Have an Hour? You Can Still Enjoy a Lesson
The following first appeared as an June 2019 newsletter for the Feldenkrais Project email list. You can subscribe right here.
"I don't have an hour."  "My lesson was interrupted." "Can I still do [or finish] a lesson?"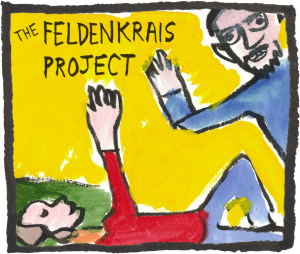 This kind of question is perhaps the most common one I've received about studying our hour-long Feldenkrais Awareness Through Movement class recordings at home.
For a detailed answer, read down. For more Feldenkrais Project Q & A's, or to ask your own question, click here! Still want shorter lessons? They're coming soon!
I love doing Feldenkrais ATM (Awareness Through Movement) lessons and I know you do too. I feel and function my best when I've made time to study regularly. The profound personal benefits I've experienced (and my urge to share them!) are the reason the Feldenkrais Project exists.
But just like most people, often I don't have a full hour to devote to self-improvement in our lovely, quiet, potent Feldenkrais way. With four kids at home and my wife and I both working full time, frequently I study ATM in shorter periods of time.
Most of our Feldenkrais Project lessons are about an hour long, but it's totally possible to study them in smaller chunks of time. In fact, more frequent, shorter study periods may be a more effective self-improvement strategy than infrequent full hours.
So, when you know you know your time is limited (or a lesson gets interrupted by something that can't wait), here's what to do:
If possible, stop the recording during one of the rests in the lesson. Make a note of how much time has elapsed in the audio player. Later the same day or the next are best for continuing when possible. When you're ready…
Lie down on the floor, breathe and relax, and take a minute to do a "body scan" like the ones at the beginning of almost every lesson. Notice the distribution of sensation and pressure you feel against the floor, and pay attention to a few breaths, just as they are.
For another minute or two, improvise your way through whatever movements you remember from the lesson, paying attention to the details that interested you during earlier study and noticing how things feel now.
Now resume the audio playback. You can then jump to any point in the lesson by clicking on the player bar (on mobile try landscape mode or use your phone's audio player controls). Use the 10-second buttons for fine control.
The strategy above works with any lesson, but here's a particularly easy one to divide in half, and the blue lesson notes tabs also give ideas for improvisation: More Precise Hips and Spine.
It's so easy to skip ATM study in our busy lives when we don't have a full hour to spare, but with a little practice I think you'll find this method useful. In fact, the brief self-led improvisation can be tremendously valuable as you discover that you can "do" a Feldenkrais lesson any time, without guidance.
Got another question about studying Feldenkrais Project lessons at home? Check out our FAQ page! You can even leave a comment there to ask other questions, and I'll reply with a comment or an email.
See if you can do 15-30 minutes of a lesson sometime soon, then pick it up again later, and let me know how it goes!
Nick Strauss-Klein
—
Do you believe that more people doing more Feldenkrais makes the world a better place? We do! That's why we give away all our primary lesson content so anyone can study, and simply ask our listeners to donate. Even a few dollars a month really helps us fulfill our vision! Plus there's awesome "thank you" benefits for donors.
Please support us with a Member-level or Patron-level monthly donation.
Or support us with a Patron-level one-time donation.
Help us share Feldenkrais! Buttons share this page.